New World Items with Old World Prices
Window Bird Feeders
Classic window feeder provides years of Fun

The birds can gather at once to sample the seed, and you can watch all the activity from inside your home.
Great in Winter or Summer.
Attaches quickly to your window with sturdy suction cups.
Lifts off easily for cleaning and refilling.
Holds approximately one quart of seed.
Clear Plexiglas
Made in the USA.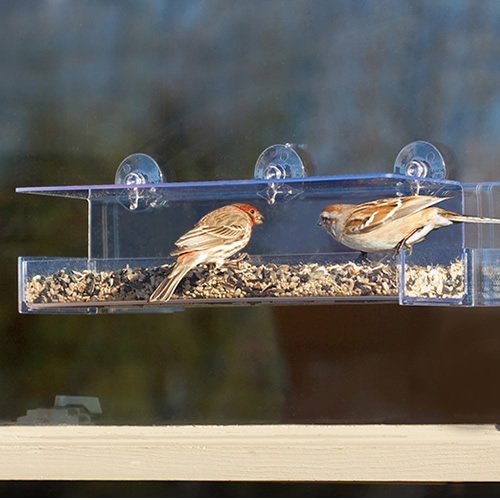 Twin Removable Tray Window Feeder
irds will flock to this covered bi-level feeder. While here, they will restock their nutritional needs with any seed served in the feeding tray.

Birds will become repeat visitors when you make a habit of putting out fresh food. Each tray holds up to 1/2 lb. of any seed; lift out for easy cleaning. The roof stands 3-1/2 inches above the feeding tray, and the second level is 2 inches below which encourages smaller visitors, like chickadees, goldfinches, nuthatches, redpolls, and titmice.
Perches are purposely placed on the sides of this feeder, so you can enjoy watching the birds eat.

Re-purpose this feeder to attract bluebirds and fill with meal worms, their favorite food--they'll feel safe eating in an enclosed area and safe from predators.
Four strong suction cups secure feeder to the window. Made from UV stabilized poly carbonate with wooden dowels. 8 x 6-1/4 x 8-3/4 inches. Made in the USA.
Wild Delight Total Cuisine

Loaded with food birds will love!
Packed with real fruits and nuts including sunflower kernels, peanuts, pistachios, hulled pumpkin seed and dried raisins.
This mix is definitely a winner.
All kinds of birds, including cardinals, titmice and nuthatches, will find it incredibly appealing, and thanks to the added vitamins and minerals.
It is also quite nutritious.
But the best part is that the blend has been specially designed to not have any mess or waste while birds are eating it.
Serve it in a large-holed tube feeder, a hopper feeder, a platform feeder or on the ground.
Comes in a 5-pound package.