New World Items with Old World Prices
Solor Color Changing Outdoor Stainless Spinners Hanging Spirals
Solor Color Changing Outdoor Stainless Spinners Hanging Spirals
LED Solar Wind Spinner with Color Changing Mosaic Crack Ball Light
Green/Blue/Red rotating LED light.
Turn on the On/Off switch before using.
Rechargeable solar battery required and included.
Automatically turns on at dusk and off at dawn.
The light will not light during the day, but the spiral spinner will rotate when wind is blowing.
The light will turn on at night, meanwhile, the spiral light will rotate when blowing in the wind.
14.2 x 7.9 x 11.8 inches ; 12.3 ounces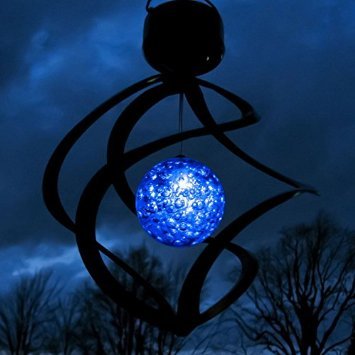 Solar Color Changing Spiral Spinner
Color changing ball is set within a graceful spiral of stainless steel.
It puts on a spectacular display when the breezes blow.
Includes solar-recharging button cell battery.
Measures 6" Diameter x approximately 18" High.