New World Items with Old World Prices
Morracan Table Lamps
Enchanted Rainbow
Create a spectacle of colored light in your living space with this fantastic table lamp.

Flip the switch and the interior bulb alights the rainbow of glass panels set in this lanterns black metal framework with intricate cutout designs.
5" x 5" x 10.5"
849179018658
Holds E12 LED light bulb (not included.)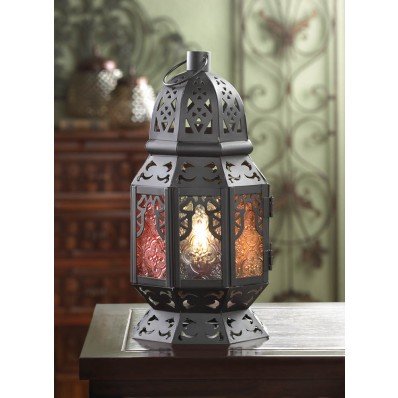 Large Iron
The gorgeous cutouts of this black metal table lamp create intricate and varied patterns when the single bulb lights up.

It glows with worldly style and exotic allure.
This will be perfectly at home in your living space.

Place it on your entry table as a welcoming beacon, or use it to brighten a shadowy corner.
7.5" x 6.5" x 16"
849179018696
Holds E12 LED light bulb (not included.)

White
Enjoy the beauty of a candle lantern with the flick of a switch instead of a strike of a match!

This Moroccan-style lantern features a single bulb inside that will light up the intricate cutouts in the white-painted metal frame.
8.25" x 8.25" x 14.2"
849179018665
Holds E12 LED light bulb (not included.)