New World Items with Old World Prices
Hummingbird Feeders
The smallest of birds, the greatest of joys!
Attract hummingbirds to your yard, garden, or deck to catch a glimpse of nature's most beautiful creatures.
Purple Art Glass

Give hummingbirds the royal treatment with this gorgeous, purple, art glass feeder!
6.88" x 4.5" x 36"
sl34301g
849179011970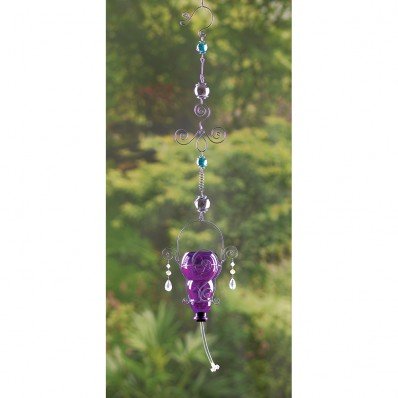 Honeysuckle
Hummingbirds are drawn to the flowering beauty of this hand blown glass feeder.

The delicate splendor of this exquisite feeder holds plenty of nectar.
It attracts lovely hummingbirds to buzz back to your yard again and again.
5" x 5" x 9"
12½" high with hook.

sl15093g
849179003449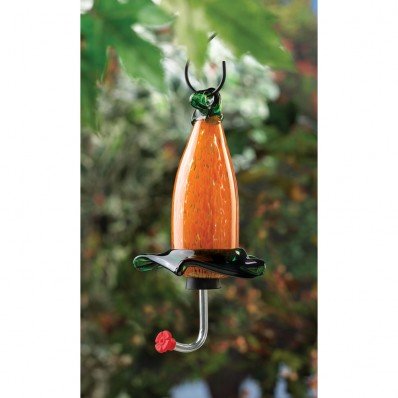 Mosaic Glass

Colors/finish: Mosaic Purple
Materials: Glass
Quantity: One (1)
Setting: Outdoor
Dimensions: 6 3/5 inches deep x 6 7/10 inches high x 6 2/5 inches wide
o16146414g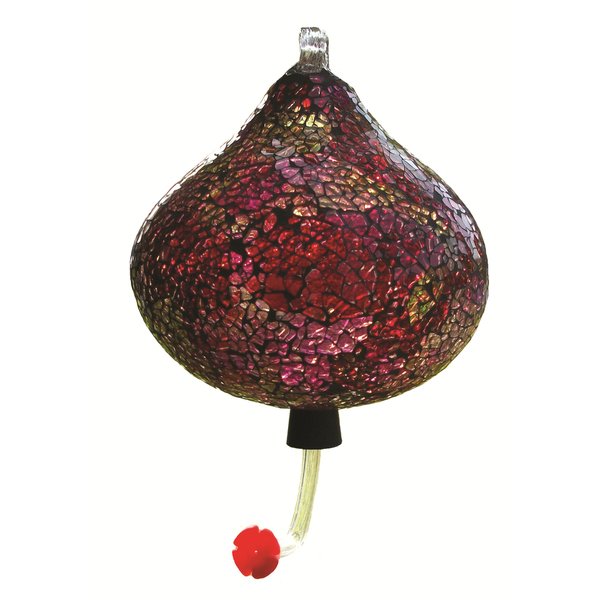 Teal Crackled Jewel
Beautiful, thick hand-blown glass complemented by a decorative powder-coated perching ring make this hummingbird feeder perfect for your home.

The easy to clean and fill feeder is a lovely way to attract aviary friends.

Materials: Hand-blown glass, rust-free powder-coated aluminum flowers and decorative metal hanging basket, stainless steel tubes
Dimensions: 12 inches high x 7.5 inches wide x 7.5 inches deep
Exclusive, innovative gaskets on lid and flowers for tight leak-free fit
Base, feeding tube, and flowers made of rust-free metal with a durable, powder-coated hammered finish
Includes hanging hook
o16358483g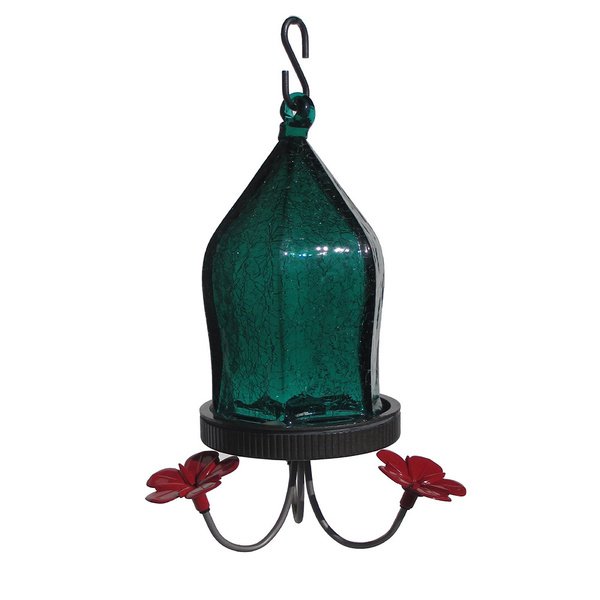 Cobalt Blue
Made from imported French bottles, these jewels are UN-etched in order to create a sleek, contemporary look.
The kiln-fired, colored glass is lustered, giving each feeder an iridescent sheen that changes in the light.
Materials: Glass from imported French bottles
Dimensions: 12inches tall
o13984531g