New World Items with Old World Prices
Hand Made Fused Glass Windchimes
Hand Made Fused Glass Windchimes
Individually created with kiln-fired glass panels, these capture the vibrant colors of the rainbow.
Secured with durable nylon cording, the colorful glass dangles from natural beach-gathered driftwood.
Unlike many metal versions, the glass panels create a light, tranquil harmony of chimes in the wind and catch the sunshine with a gorgeous color combination.
The chimes also look wonderful indoors in a sunny window!
Hand Made from driftwood and glass
Rainbow
Inspired by the beauty and colors of the rainbow
6 chime 15" long x 8" wide (approximate) ; Weight = 0.75 lbs.
9 chime 15" long x 14" wide (approximate) ; Weight = 1.00 lbs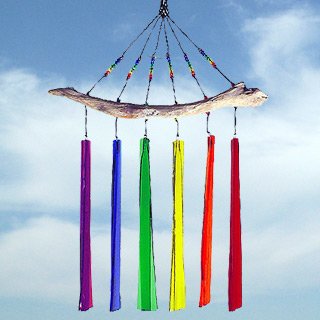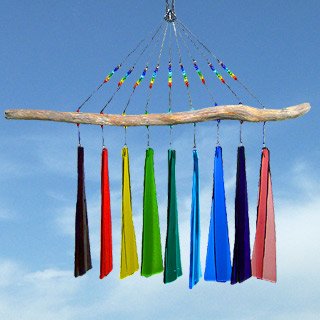 Blues and Greens
Inspired by the beauty and colors of the sea
6 chime 15" long x 8" wide; Weight = 0.75 lbs