New World Items with Old World Prices
Apple Barrel Planters
Tricycle
This is one of the most charming plant holders ever!

The rain barrel potted plant holder features authentic black metal banding and is set on a wooden tricycle frame.

Very cool from the wagon wheels to the little box on the front of the handlebars.
This plant accessory is overloaded with country charm!

21" x 12" x 18"
849179016630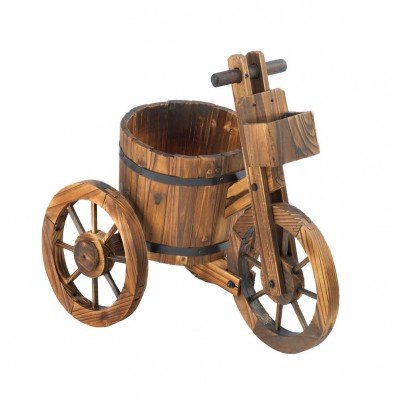 Trio
This trio of planters have look of aged oak barrels.
They include black metal banding and handles for ease of relocating around your yard as the mood or sun strikes.

Each planter has a different size to allow you to make these the charming homes for a variety of plants.

Large: 15" x 15" x 12" high;
Medium: 12" x 12" x 9¾" high;
Small: 10" x 10" x 7½" high.
849179005139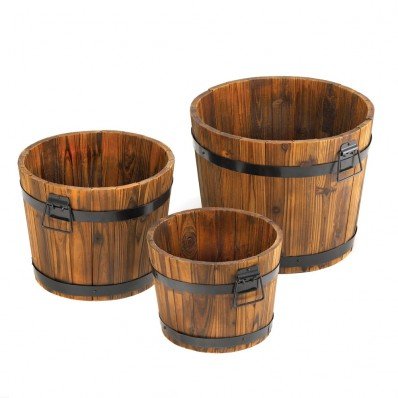 Ladder
Roll out the barrels and add a drop of country charm!

The simulated fir wood barrels of this planter trio have authentic metal banding.
They are fastened to sturdy wooden posts.

The hinged tri-level design gives you the freedom to adjust it to fit anywhere in your yard.

Open: 36" x 9¾" x 22?" high;
Closed: 12½" x 9¾" x 22?" high;
Each bucket is 9½" x 9½" x 5" high.
849179005122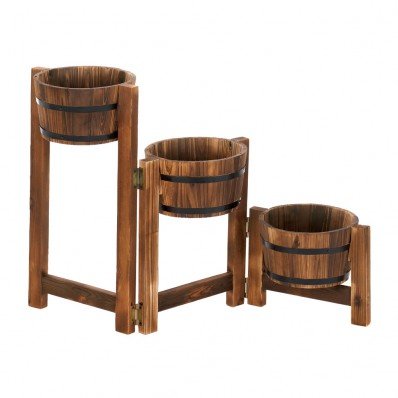 Wagon Wheel
This rustic planter creates an instant oasis with a little bit of country charm!

Four buckets hold a quartet of your plants, suspended from a realistic wagon wheel center.
It has a well-weathered finish which adds an antique look.

The plants are not included.
18.5" x 18.5" x 23.5"
849179010331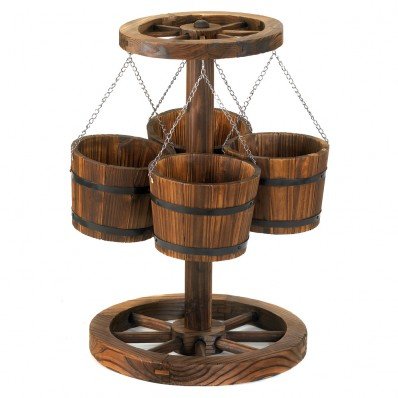 Wishing Well
Your wish just might come true!

This natural wood wishing well will add quaint nostalgic appeal to your outdoor living space.
It is very pretty when its bucket and base are filled with your favorite flowering plants!

Hollow base.
16 pounds
25.6" x 25.6" x 44.1"
849179011062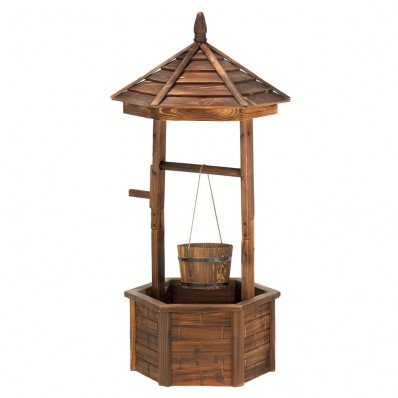 Pump and Barrel Fountain with Planter
This vintage-inspired fountain and planter trio is an throwback to simpler times.

The soothing sound of cascading water falls from the well pump into wooden barrels.
When you add a splash of greenery in the front-mounted planter trio, youll have a peaceful oasis in your yard!

Each small bucket: 5½" x 5½" x 4" deep;
Large bucket: 21¼" x 21¼" x 10" deep.
849179005146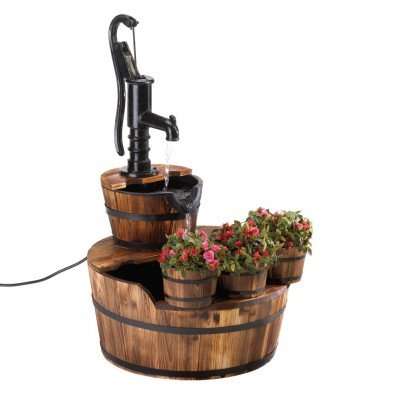 Wagon Planter
Make your yard bloom with rustic charm as the green leaves of your favorite potted plants or herbs peek out from this outdoor wagon planter.
This wagon is made from half of a wooden apple barrel, and the wooden wagon wheels that are expertly crafted.

It has a lovely stained wood finish,
This yard decor will be admired by the whole neighborhood!

47-3/4" x 20" x 24-1/2" high.
849179016647