New World Items with Old World Prices
Aluminum 6 Room Purple Martin Bird House
Aluminum 6 Room Purple Martin Bird House
6-room Deluxe Martin House constructed of rust-free heat dispensing aluminum.
Each of apartments measures 9" W at the front X 3" W at the back, 6" deep, and 6" tall.
This gives the Martin Family Plenty of Room to grow.
The Entrance holes are 2 1/4" in diameter. Includes door stops and protective rails.
Ventilation is under the cupola, and drainage holes are in front of the entrances.
The hexagonal design is both functional and artistically attractive.

As the colony grows, so can the house; just add-a-unit.
Easy to Clean - Floors snap out for easy access.
Mounting Pole sold separately.
Assemble with Screwdriver and pliers.
In Use Dimensions (inch): 11.80L x 4.50W x 14.00H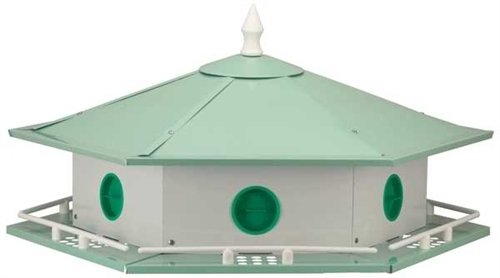 085199036016