New World Items with Old World Prices
Modern Squares Fused Glass Clocks
Modern Squares Fused Glass Clocks
Conventional clock numerals are replaced with twelve contemporary squares.
The energetic glass design is permanently integrated by means of kiln-firings at high temperatures.
With the addition of clock hands, the fused glass becomes an admirable work of modern functional art for your domicile!
The wall clock is designed to be hung in a diamond shape as shown and measures approximately 12" from left corner to right corner.
Requires 1 "AA" battery.
Made by hand in Ohio
Blue Fusion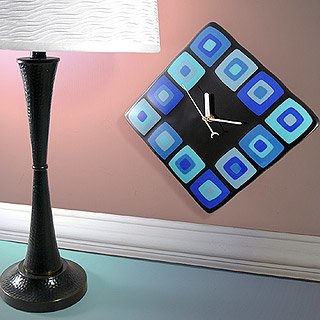 Warm Fusion Back Ordered