New World Items with Old World Prices
Large Windspinners
Catch the wind with one of these large garden wind spinners.
Air Brushed Rainbow Spinner

Airbrushed three color kinetic spinner
This airbrushed, three color kinetic spinner.
Each side spins in the opposite direction for a striking display in your yard or garden.
Stands an impressive 84" tall and measures 16-1/2" in diameter. Made of weather resistant metal.
Simple assembly required, instructions included.

Multi Color Tulip Spinner

Movement and light combine for a dramatic garden display.
Two tiers of colorful metal petals spin in opposite directions.
Nestled in the middle, the 3" diameter solar glass ball emits color-changing light by night.
A slight breeze sends this spinner whirling.
The solar powered LED cycles through vibrant colors after dark.
Measures 25" diameter and stands 75" tall when fully staked.
Some assembly required.
Made of airbrushed sheet metal and powdered coated steel.
Instructions included.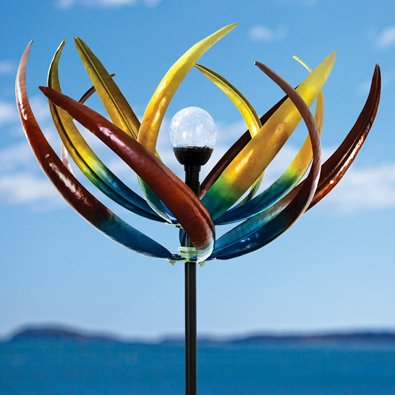 Blue Sails

The Blue Sails Wind Spinner is a unique outdoor decor item.
When staked the moving metal sculpture measures 64" high.
Symmetrical blue sails spin in circles depending on the wind.
This one really looks great by the sea at a beach house or vacation home.
Makes an impressive gift for decorating the yard or lawn
Some minor assembly required, instructions included
Made from weather-resistant metal coated with durable, blue and black paint
Blue Sails Wind Spinner measures 17" at its widest point