New World Items with Old World Prices
Inspirational Solar Garden Stones
Inspirational Solar Garden Stones
Inspirational Solar Garden Stones

The battery inside the battery pack is a Ni-Mh AA 600 Ah 1.2V solar rechargeable battery.
Before using the first time, place the solar light in the sunlight for 6-10 hours so the sun can fully charge the battery before you turn it on.
After the stone has been in the sunlight for the recommended amount of time, compress the button on the bottom for 30 seconds to turn it on.
After that it will continue to recharge whenever it is exposed to sunlight.

Do not expose accent to freezing temperatures.
Dust with a soft, dry cloth. Do not use polishes, chemicals, or abrasives.

The Beauty of Nature

The Beauty of Nature This Welcome Solar Stone is a reminder to take solace in the unending vitality of the nature.
It depicts the cycle of rebirth it represents.
A Resin solar stone, with a textured, sandy finish, depicts a forest teeming with contented animals.
They include deer, rabbits, a raccoon, an owl, a squirrel, a turtle, and an eagle.
Accent has "WELCOME" across the bottom. Solar light can operate equally to the amount of time fully charged by the sun.
Includes an On/off switch on bottom and a rechargeable AA battery.
12.5"Wide x5.5"Deep x9.5"High.
• For outdoor seasonal use
• Solar-powered light emits a soft glow
• Features a charming openwork design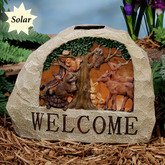 St. Francis
The St. Francis Solar Stone is a reminder of the blessing inherent in life, regardless of our often trying circumstances.
It is a touching accent and a thoughtful gift to the bereaved.
This resin solar stone has a weathered stone finish and depicts St. Francis of Assisi, patron saint of animals, tending to his forest friends.
Surface bears the adage, "The miracle of God is seen in every sunrise."
Solar light can operate equally to the amount of time fully charged by the sun.
It includes an On/off switch on the bottom and a rechargeable AA battery.
12.5"Wide x5"Deep x9"High.

• For outdoor seasonal use
• Solar-powered light emits a soft glow
• Features an openwork design