New World Items with Old World Prices
Hanging Blissfull Butterfly Feeder
Hanging Blissfull Butterfly Feeder
Butterflies will be in bliss when they visit this attraction, a butterfly feeder that doubles as a birdbath or a "mud puddle," an essential mineral-rich area for butterflies.
The combination of sand and water supplies butterflies with nutrients they need to survive. Add just enough water to moisten the sand.
This bird feeder will feel like a constant ray of sunshine in your backyard, since the yellows and oranges light up beautifully under direct sunlight.
The metal frame nestles a yellow glass dish with a decorative spiral base. Includes 3-1/2 inch hook. Available in three colors: yellow, blue, or pink.
Pick your preference. 7-5/8 inches in diameter and 15-1/2 inches tall.
Yellow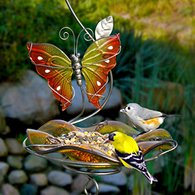 Pink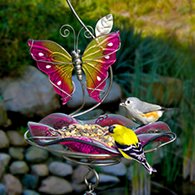 Blue