New World Items with Old World Prices
Ceramic Electric Oil Warmer Lamps
Ceramic Electric Oil Warmer Lamps
These are great lamps as well as oil warmers.
To use these oil warmers, simply add a few drops of your favorite scented oil to the oil dish and turn the warmer on.
All of these oil burners have a dimmer switch that allows you to control the heat generated to warm the oil.
Turn the dimmer switch down low and the halogen bulb heats the oil slowly, giving a light fragrance.
Increase the intensity of the light and increase the level of the fragrance.
The bulbs are replaceable and can be purchased through us or at any hardware store.
Our oil warmers are UL Approved and come with a power cord with dimmer switch built in.
The oil warmers are made of high quality glass and come carefully packaged in a gift box.

The warmers vary in size so please refer to the item description for size details.

Please note there is no difference between an oil warmer and an oil burner.

Need to know how to change the oil warmer bulbs? We have them.
White Ceramic
White Ceramic oil warmer measures 5" tall and 5" diameter. Uses one 35 watt halogen bulb (included). The 4" clear glass oil dish is removal for easy clean up. Uses either scented oils or tarts. Can be used as a low light lamp or night light. On/off switch includes a dial that allows you to adjust the amount of light the warmer puts out. Orange cylinder inside the warmer gives off an Amber color when plugged in (as pictured).

UPC Code: 008981489227
Item Weight: 3 lb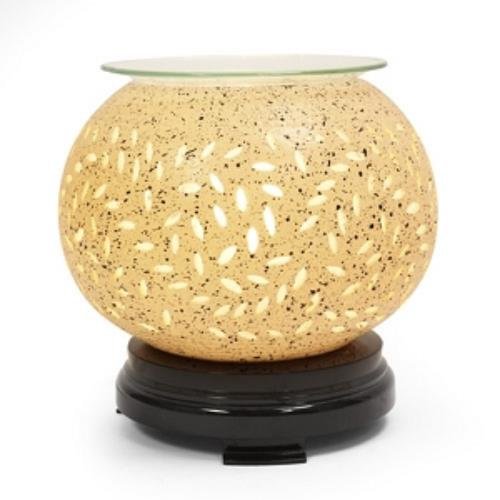 Leaves Ceramic
Ceramic oil warmer measures 6" tall. Simulated wood stand. Uses one 35 watt halogen bulb (included). Oil dish is removal for easy clean up.

UPC Code: 008981489234
Item Weight: 3 lbs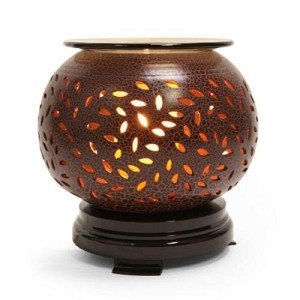 Rose Ceramic
Ceramic clay electric oil warmer measures 7" tall diameter. Simulated wood stand. Purple cylinder with clear dish for the oil. Uses one 35 watt halogen bulb (included). Oil dish is removal for easy clean up.

UPC Code: 008981489128
Item Weight: 3 lbs