New World Items with Old World Prices
Artistic Unusual Metal Wall Art
Artistic Unusual Metal Wall Art
Scroll
Give your wall a dramatically stylish makeover simply by hanging this impressive iron decor.

Curling waves of wrought iron wisp and wander from the center metallic ornament to make a modern statement.
36.4" x 1.5" x 36.4"
849179022136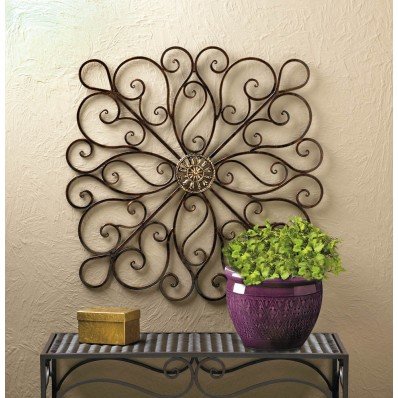 Vino
This wine inspired art is sure to add a vivid dose of color to your dining room, kitchen or bar.

The rustic beauty of its hand-forged metal finish in distressed deep green, burgundy and yellow gold tones.
It is ideal to dress up any wall decor.

Style: Wall hanging
Material: Metal
Subject: Wine
Ready to display
Color: Deep green, burgundy, gold, red, yellow
Ideal size for small spaces
Dimensions: 17 inches high x 17 inches wide x 1.5 inches deep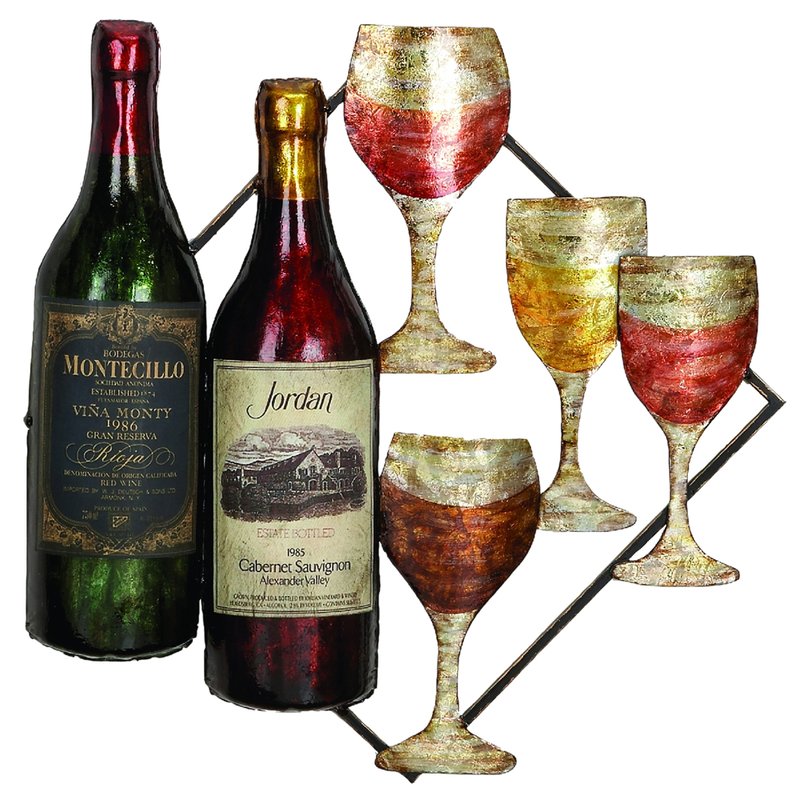 Bottles and Glasses
This wall hanging evokes the natural beauty of a Tuscan vineyard
This decorative piece of art depicts wine bottles and glasses.
It is an elegant display.
Dress up your home and your wine collection at the same time with this metal wall decor.
Colors: Copper and rusted orange
Materials: Metal
Dimensions: 24.5 inches high x 2.5 inches deep x 30.5 inches long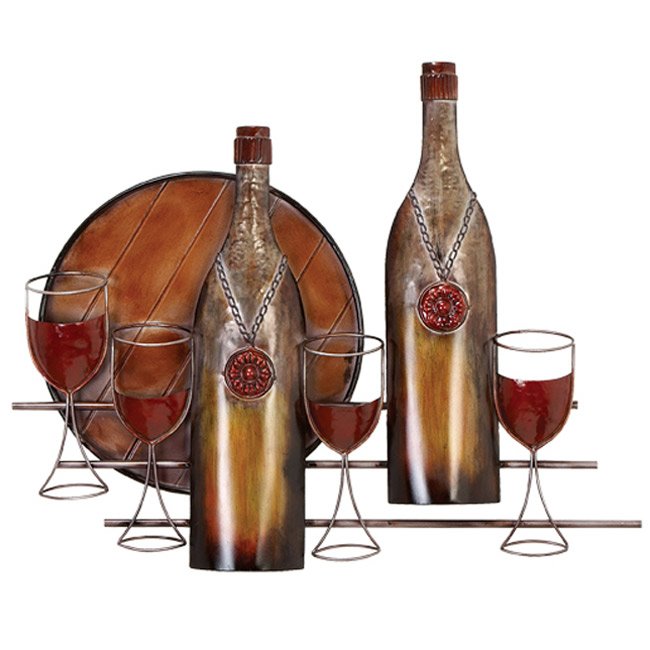 Romantic Duality
Decorate any room with dramatic color using this beautiful accent piece from Mexico. The Romantic Duality wall art is crafted of steel and is cut, hammered and painted by hand.

Features:
Original design by Alejandro de Esesarte
Sun and moon embrace in a romantic rendezvous of magical energy
Cut, hammered and painted by hand
Crafted of steel
Measures 23.2 inches high x 23.2 inches wide x 1.8 inches deep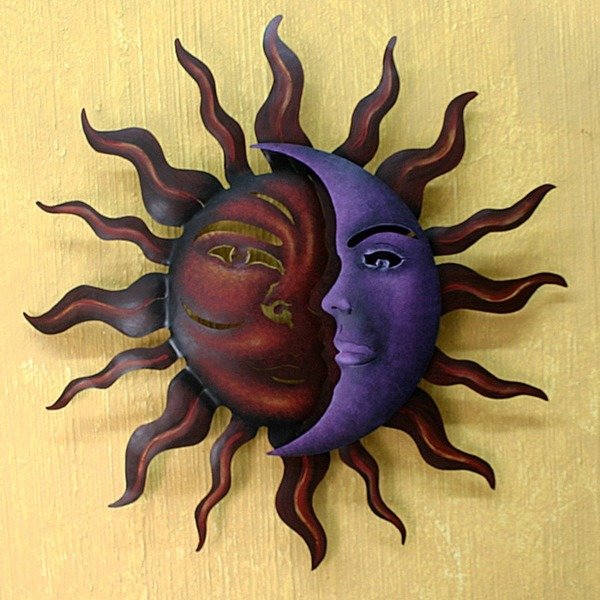 Musical Interlude
Let this metal wall sculpture play a Musical Interlude meant not for your ears, but rather your eyes. Crafted from metal and finished in golden bronze, this dimensional collage wall sculpture features a dark brown treble clef attached to abstract piano keys that trail off into black musical notes. In the foreground, stylized horns blend their rich tones. 39"x20".

• Metal wall sculpture with music notes & instruments
• Stylish design looks great in a music room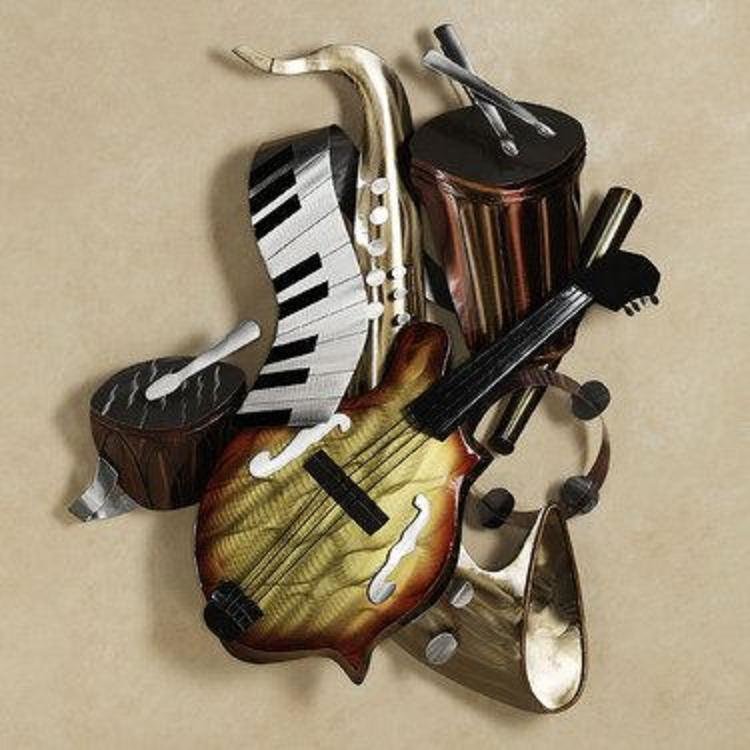 Abstract
Add a vibrant, modern touch to your home or office decor with this appealing Abstract Wall Art.
Made of metal
Distorted grid pattern
Highlighted by brightly colored squares
Comes ready to hang
Measures 27.25 inches high x 42 inches wide x 3 inches deep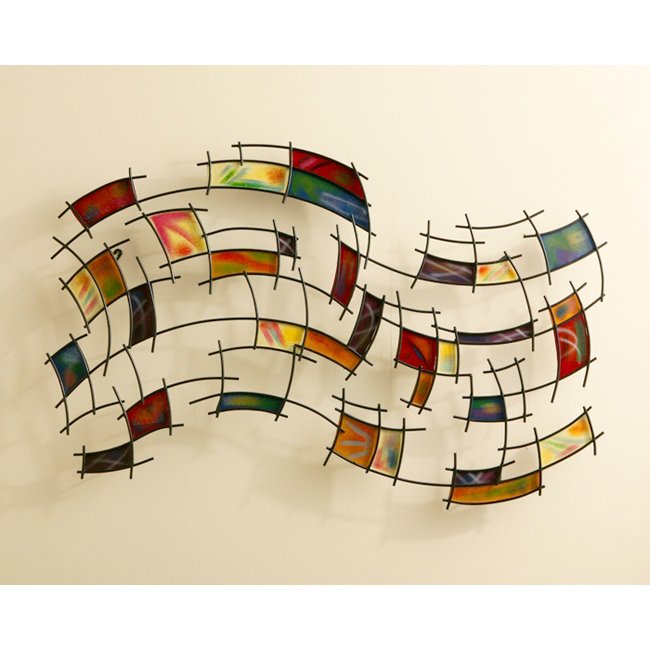 Painted Blue Moon and Sun
This brightly painted 24-inch round painted Haitian metal wall art features Sun and Moon Faces.

The piece is cut, embossed, and painted by hand.

Suitable for hanging indoors or outdoors.

There are many artisans in Croix des Bouquets, an area of Port-Au-Prince, Haiti.

It is known for artisans who make oil drum art.

The constant hammering from the sheds in the area leads you to beautiful metalwork.


Haiti
Product Features: Eco-Friendly, Handmade
Material: Steel
Exact Color: Multiple
Size: Large
Color: Multiple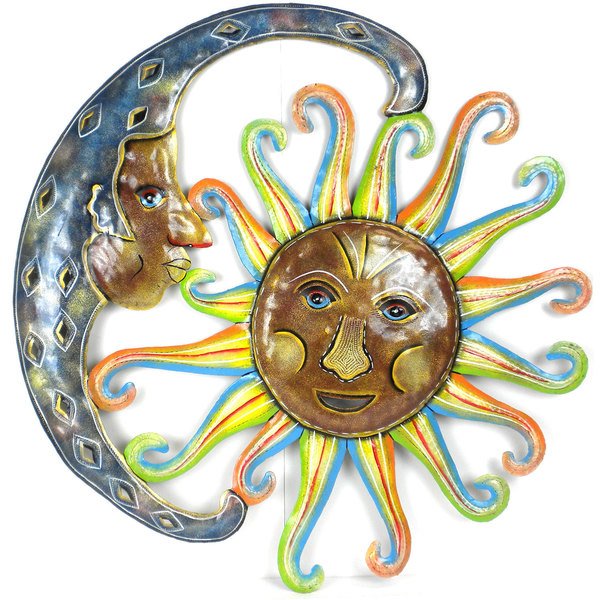 "Graceful"
Artist: NOVA Art Studio
Title: Graceful
Product type: Metal Art
Style: Contemporary
Format: Oval
Size: Large
Dimensions: 27 inches high x 68 inches wide x 7 inches deep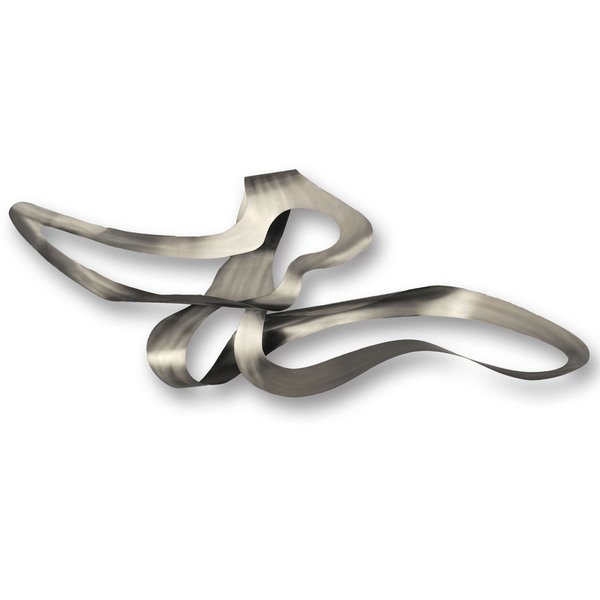 Kindred Abstract
Add a contemporary touch to your home decor with this great piece of metal wall art. This unique piece will definitely add a fabulous look to any space.


Artist: NOVA Art Studio
Title: Kindred
Product type: Metal Art
Style: Contemporary
Format: Landscape
Size: Large
Dimensions: 33 inches x 48 inches x 4 inches